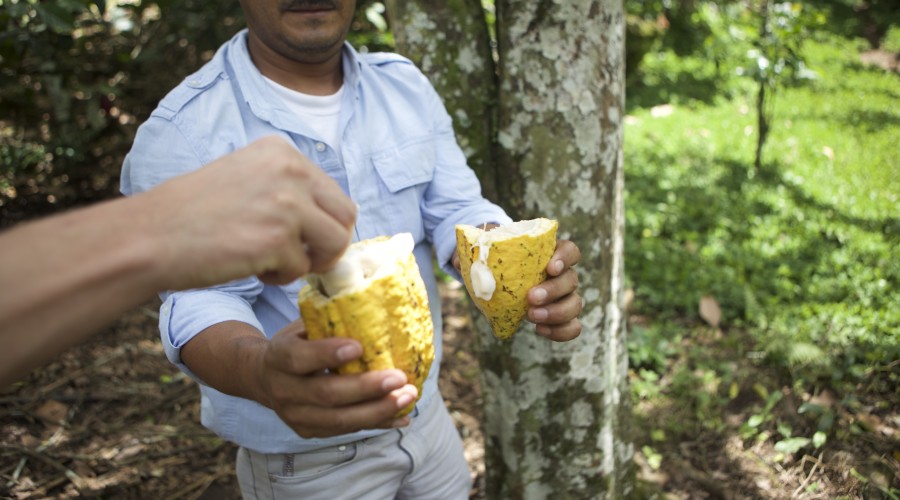 Imagine the aroma of dark chocolate moving through the halls of a Minneapolis studio. Neighbors peek their heads into the hallway, wondering about the seductive smell. It hovers around the halls for days after roasting, urging people to test the small batch chocolate with wine, coffee, and other tasting companions. I will write down their feedback, pull out my large burlap sack of Nicaraguan cacao beans, and create again.
Fresh beans begin their process to becoming chocolate in Nicaragua; fermenting, drying and bagging them in Rancho Grande. Their very own farmers bringing the crop through their processing and then shipping them straight to the US where they're brought to their delicious, aromatic end in this Minneapolis studio.
Bean to bar chocolate making is causing a shift in the chocolate world. Ordering bulk blocks of chocolate with an unknown heritage was once seen as the only way to make chocolate. And indeed it would do the trick when crafting truffles and artisan pieces. Velour covered Valentine Day truffle boxes thrived off of this kind of production. And then, sometime not long ago, someone asked, "Where is this chocolate coming from?" The story of chocolate has become one of the most unpredictable stories we could tell. You could tell the story starting with the Aztecs and their obsession with hot chocolate. Or you could tell how it was used as currency amongst the Spanish conquistadors.
Unless your story includes the farmers, you're getting the story all wrong.
Cacao beans are being brought from Ghana, Ecuador, Tokyo, Haiti, Venezuela, Nicaragua and so many more alluring countries. The farmers of these beans are dedicated to their craft but are commonly unaware of how precious of a commodity it is that they're harvesting. Generation after generation, farmers have been laboring on their land, the sun on their backs and machete's in hand. Sons, daughters, cousins, and uncles working alongside each other. Because they're proud to be cacao farmers, and they're experts in their craft.
Bean to bar is certainly a stop on the road going in the right direction for chocolate making to become even more successful in the market, economically and socially. But it isn't the end goal. Unless we give notice to the hands and faces that are harvesting our beloved cacao, we need to keep walking forward to find solutions for recognition and prosperity in these farming communities.
Farm to bar is the tradition that we are hoping for.
Where you can walk to your local co-op, your chocolate cravings pulling you there, and pick out a bar knowing precisely where and who it came from. And maybe you would purchase a Nicaraguan bar, knowing that Harvin Martinez harvested it just for you. And maybe you would go to Nicaragua one day and meet Harvin and his wife, maybe you would share some chocolate and bread together. And maybe not. But our worlds certainly expand when we choose story, knowledge, and the success of others.
Farm to bar is a living connection to what we love, a connection that bridges lives, and how beautiful is that?